Category Archives:
Stock Preparation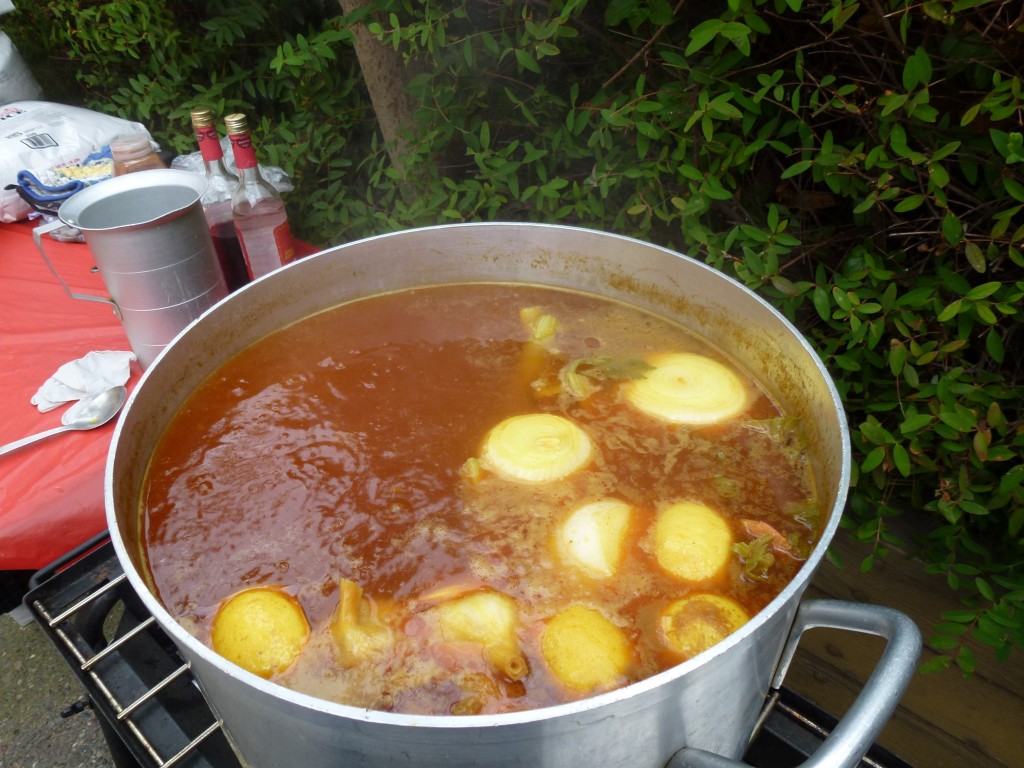 Making good paella is not difficult and is greatly enhanced when you use a good stock made from scratch. Stock made from scratch does take longer but, you'll be rewarded with robust aromatic flavor with a lot less sodium. Using canned chicken or vegetable stock is quick & easy but, the over whelming amount of salt will throw off other delicate flavors. Water on the other hand will dilute your flavors from the various ingredients used in the paella. The key is making your own, watch the salt and try using different versions to control the flavor profile.
 
Full Flavored Paella Stock
Prep time:
Cook time:
Total time:
How to make stock for paella from scratch.
Ingredients
40 cups of water
2 Medium onions halved
2 Whole heads of garlic
4 Celery stalks halved
2 Bay leaves
1 Ginger, piece about 1 inch long split in half
1 Yellow lemon cut in half
1 Chicken Leg Quarter or 4-6 chicken backs
1 Pork Trotter cut into thirds
1 Fish head or ½ lb prawns
2 Tbls of anchovy paste
3 Tbls of Paella Seasoning
2 cups of white wine
1 gram of saffron ($10-$15)
Instructions
Combine all ingredients except the saffron in a large stock pot and bring to a boil. After reaching boil, turn heat down to maintain a gentle simmer for 2-3 hrs. If necessary simmer longer until the pork trotter is super soft and has released its gelatin and the stock has a silky almost creamy texture. Usually I will prepare the stock a day in advance and finish it off the day of the paella.
Once ready, remove all the solids, strain if necessary, and add your saffron. Make sure to grind saffron into a fine powder prior to adding to stock. I prefer this method because all the chemicals ( crocin, picrocin & saffranal) that give saffron its color and aroma will render more freely. After simmering 4-6 minutes, stock is reading to be used on your paella.
Enjoy!!!