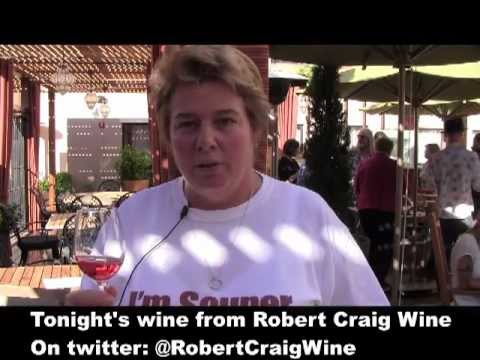 Recently I was invited by my very good friend, Chef Robin White, to attend the second night of her Cold Soup Week at the Avia Hotel in downtown Napa. Robin also known as @canapes45 on twitter is an amazing chef and the "queen" of virtual dinners.
Virtual dinners pair great food, wine and social media in an interactive blogapalooza of people enjoying the wine-soup pairing and tweetting about their experience. On this particular night, Grilled Watermelon Soup was prepared by Chef Chris, using Robin's recipe,  at the  Avia Hotel paired with a Robert Craig Wine Rose. The evening was also sponsored by Linda Cordair of Cordair Fine Arts also in downtown Napa. To say the least, the soup and rose made a great pairing; the sweet and savory aspects of the watermelon complimented the pronounced berries and acid in the Robert Craig Rose.
The evening was enhanced by a great dinner at Graces Table, @gracestable, within a blocks walk of the Avia Hotel. Next time Robin hosts a virtual dinner, I recommend that you check it out and perhaps participate by buying the wine and making the great recipes to pair with it.
Hope you enjoy the video, it was a lot of fun being at the second night of #ColdSoupWeek, hope to see you at one of these in the future.Cheers!